Larson Davis LxT is a professional Class 1 Sound Level Meter desgned for measurement environmental, occupational and product noise. Different Instrument Software are available to meet your requirements, such as 1/1 and 1/3 octave analysis; and data logging.





With its sleek ergonomic design slender and able to be held and operated with just one hand to its exceptional data presentations, the SoundTrack LxT is the perfect tool for gathering, analyzing, and presenting detailed noise environment data quickly, easily and concisely. It save incredible amounts of time and provide better results, every time all at a price within your budget!

comply with IEC651, IEC804
simple operation with one hand
1/1 and 1/3 octave*
automatic data logging*
save measurement time by using Stop When Stable Run Control. e.g. stop when Leq within 0.2 dB.
large bright high contract LCD screen
extremely rugged compact, light weight 0.5kg
Digital voice annotation*
2 channel dosimeter (Lep,d, Dose)
back-erase of 5 sec or 10 sec data
USB 2.0 interface
powered by computer through USB
support USB Stick (unlimited storage space)

* option
Instrument Software options:
| | | |
| --- | --- | --- |
| | | Real-time 1/1 and 1/3 octave frequency analysis |
| | | |
| --- | --- | --- |
| | | Measurement History - environmental data logging of all parameters including spectra & statistics (Ln), at time interval from 1 min to 24 hours. |
| | | |
| --- | --- | --- |
| | | Time History - data logging of up to 16 parameters from 1 sec to 24 hours. |
| | | |
| --- | --- | --- |
| LXT-MEM2G | | 2Gb memory extension |

Provides real-time 1/1 and 1/3 Octave frequency analysis, that is useful in tonality assessment, selection of hearing protection, and qualifying of ventilation system.

Wide frequency ranges are provided:
- 1/1 Oct : 8 Hz to 16kHz
- 1/3 Oct : 6.3 Hz to 20kHz

Leq, Lmax and Lmin are measured with A, C or Z frequency weighting.

Remark : 1/1 Oct options (LXT-OB1) is available if only 1/1 Oct Analysis is needed (e.g. for selection of hearing protection)

Measurement History is used to perform a sequence of measurements using the same setup, either manually or automatically, at time interval from 1 min to 24 hours. All parameters are logged including spectra and statistics (Ln). The function is useful for environmental Base Line Monitoring study and report.

The Interval Time Sync feature ensures that all measurement records are properly aligned in time for easy reporting. For example, if the measurement time is five minutes, and the measurement begins at 08:14:00 (h:m:s format), the first measurement will be cut short such that the subsequent measurements will begin at 08:15, 08:20, 08:25, etc.

Different Smart Run Control Modes are very useful for monitoring. For instance, Daily Timer Mode can start automatically and collect data at mid-night from 1am to 3am for the coming 1 week. Another example is Continous Mode. SLM resumes measurement automatically when the power recovers after failture.

In Time History mode, SoundTrack LxT can automatically log up to 16 acoustic and non-acoustic parameters including spectra, at time intervals from 1 second to 24 hours.

10 markers are available for annotation of time history for different sound sources (truck, aircraft...etc)

Remark : for precise timing of noise event, logging down to 100ms can be achieved by LXT-HSLOG option.
Model CAL200
- Class 1 Calibrator for 1/2" microphone
- Calibration frequency 1kHz
- 94 or 114 dB ( 0.2dB)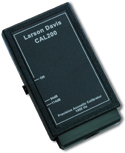 Free of Charge SLM Utility-G3 is availble for download. It can be used for remote control of Lxt and data download to PC for reporting, printing and export to other program like Excel.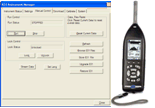 For more information at LD website....