Adash 3 channel A4300 VA3 Pro Analyzer / Data Collector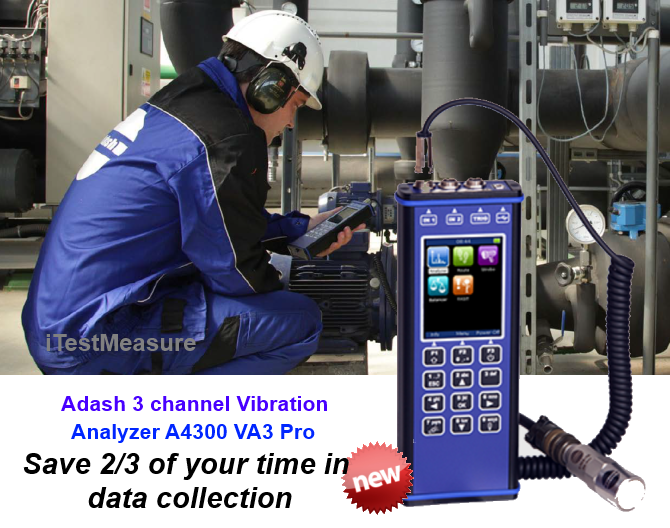 The Adash A4300 VA3 Pro makes vibration measurements of X, Y and Z directions simultaneously, that saves your time in routine data collection or fault diagnosis.

There is a non-contact

IR temperature sensor

for immediate bearing temperature measurement and a

LED stroboscope

for RPM confirmation. The A4300 VA3 Pro is designed for one-handed operation. With a weight of just

780g

and a battery life of more than

10 hours

of operation, the unit is suitable for long route measurements.


ACC ICP® - sensor input
2 signal inputs AC/DC (IN1,IN2)
Input IN2 is ready for triaxial sensor (3 simultaneous channels)
Input for tacho/trigger
IR non-contact temperature sensor
LED stroboscope / torch



NEW

A4300 VA3 Pro Ultrasound




The newly added A4300 VA3 Pro

Ultrasound

function can be used for detection of


air leakage, steam leakage, valve leakage
electrical arcing, electrical corona
Early Bearing Fault

By simply changing the accelerometer into an ultasound microphone, VA3 Pro can turn into a valuable tools for ultrasound fault detection.

A4300 VA3 Pro Expert System




The A4300 VA3 Pro

Expert System

gives immediate field diagnosis of the most common faults that can be detected by vibration measurement. Faults are shown in color scale:


Vibration Severity (ISO 10816-3) - left column
Unbalance
Looseness
Misalignment
Bearing Fault - right column

It also indicates the bearing temperature (on the right column) when its built-in infra-red sensor is pointed at the bearing housing.





The A4300 VA3 Pro

Recorder

is a indispensible tool for indepth analysis of machine fault.

Recorder can be played back and analyzed using the

FREE OF CHARGE

PC

Virtural Analysis

Software. Therefore VA3 can be used as a

'digital recorder and playback

' system and the investment is very cost effective.







Measurements of 3 channel are done simultaneously. Moreover, different measurements on the same measurement point are carried out at the same time.

For example, the screen can show the :


overall velocity in mm/s
overall acceleration in g
time waveform in velocity
FFT spectrum (25,600 lines) in velocity
Envelope spectrum for bearing fault detection
Order analysis for variable speed machine

A4300 VA3 Pro Time Waveform






Time Waveform display on A4300 VA3 Pro can be used for inspection of rubbing issue; or motor fault such as rotor short circuit or eccentricity.

In case of bearing fault, waveform of acceleration can sometimes reveal the vibration impacts between the bearing roller and the rails.




A4300 VA3 Pro Data Collection by Route






By using the downloaded route, data collection becomes a simple routine job. User follows the on screen instruction on VA3 Pro to collect the vibration data for different machines and measurement points.

Data uploaded to DDS2016 PC database will automatically generate alert and alarm based on the user defined limits.
A4300 VA3 Pro Balancer (ISO 1940)






In-situ 1-plane and 2-plane balancing of rigid rotor according to ISO 1940 can be easily achieved using VA3Pro..

The program calculates the Dynamic Factor Amplitude (DFA) and Phase (DPP) after the mesurement with trial mass. These factors are kept in memory so that next time, no measurement of trial mass is needed. Once the vibration measurement before balancing is completed, the correction mass and position are shown immediately.